Return to Headlines
Princeton ISD "Email Express" for week of Nov. 13
This is the 13th edition of Email Express, a communications tool utilized by Princeton Independent School District. This email is distributed weekly to keep you informed. Districtwide events are featured at the top, followed by a section for each campus to make information easier to navigate.


In addition. We welcome suggestions on how we can improve our communications so feel free to email
jcollins@princetonisd.net
with your ideas.
We encourage you to follow the district Facebook and Twitter to stay up-to-date, as well. Follow @princetonisd on Twitter and like the Princeton Independent School District page on Facebook. These accounts are also linked to the district website at
www.princetonisd.net
so you do not need social media to see the postings.
ANGEL TREE
Applications are being accepted on each Princeton campus until Friday, Dec. 1, for children who can benefit from the Angel Tree program. All Angel applications are reviewed on a first-come, first-served basis. Deliveries to families begin Tuesday, Dec. 12.
Adoptions are also underway because there are several angels who still need to be adopted. To help provide a merry Christmas to a less fortunate child, these are the procedures for adopting an angel:
- Guideline: Spend approximately $60 per child.
- Clearly mark all packages with the Family and Child number from the adoption form. Please use a removable label so gifts will not have writing all over them.
- Return your unwrapped presents to the Auxiliary Services Building by Monday, Dec. 11. (Unwrapped gifts are a new procedure for this year.)
- If someone cannot afford to adopt an entire child, pair up to adopt a child.
- Make a monetary donation at any campus, administration office, Citizens State Bank or Independent Bank (checks payable to Princeton Lions Club); or
- Sponsor a portion of a child by selecting from the Angel Tree at either Citizens State Bank, Independent Bank or the City of Princeton. Individual items, including toys or clothing, will be available.
POINSETTIA SALE
The Athletic Booster Club is selling poinsettias as a fundraiser for $10 each preordered by Nov. 30. The plants will be available for pickup at the PHS cafeteria Dec. 6 from 4-8 p.m. See order form for all the details.
SCHOOLS CLOSED
Princeton schools and offices will be closed Wednesday-Friday, Nov. 22-24, for Thanksgiving. Normal classes and office hours resume Monday, Nov. 27.
BUS DRIVERS
PISD needs bus drivers for immediate openings.
-Guaranteed hours
-Starting at $16.50/hour
-Holiday fund offered
-$1,000 completion bonus
A CDL with a P&S endorsement preferred for this position, however, required paid training will be provided. Contact transportation department at 469-952-5400, ext. 2072.
CATE SALON
The CATE Salon is now open to the public on Thursdays from noon-3 p.m., with extended hours until 5 p.m. on the first and third Thursdays each month.
Click here
for salon services with prices. Call 469-952-5400, ext. 3068 for appointments.
BELL SCHEDULES
Bell schedules for each campus:

Elementary, 8:30 a.m.-3:50 p.m.
Huddleston, 7:30 a.m.-2:55 p.m.
Clark, 7:30 a.m.-2:55 p.m.
PHS, 7:30 a.m.-3 p.m.
PANTHER RADIO COVERAGE
If you are unable to make it to the football games on Friday nights, you can hear it live on KPTN Radio. Log on to
www.kptnradio.com
and download the app to your phone or tablet. The pregame show starts 15 minutes before kickoff, and if you miss part of the game, you can hear it played back Saturday mornings at 8.
2017-18 CALENDAR
Click here
for a copy of the current school calendar for 2017-2018.
NEW MOBILE APP DISTRICT ID
For instructions on using the mobile app,
click here
.
To access the parent portal for grades and attendance log in to the parent portal, visit
www.princetonisd.net.
The new district ID is GFHYGD.
The district champion Princeton Panthers take on Van Friday night, Nov. 17, in the Bi-District round of the football state playoffs. Kick-off is 7 p.m. at Wilkerson Sanders Memorial Stadium, 1201 T.L. Townsend Dr., Rockwall, TX 75087. Tickets will be sold at the gate for $7 for adults and $4 for students. No advance sales. Princeton will be the home team.
FCA MEETS
FCA meets this Friday, Nov. 17, in the lecture hall during both lunches. Eat a quick lunch in the cafeteria then head to the lecture hall. A lunch FCA meets at 11:45 and B lunch FCA meets at 12:40. Come and enjoy the worship music and message of Marty Breeze. Everyone is welcome.
NO 9TH GIRLS BASKETBALL GAME
The 9th-grade girls basketball game scheduled for tonight vs. Ponder is canceled.
FOOD DRIVE
Student Council is organizing the food drive and has delivered boxes to classes to begin collections. The food drive ends Nov. 30. The 4th-period class that collects the most items receives a pizza party. Items requested include: canned soups, tomatoes, fruit, beans, vegetables, chili, meats (like Spam, tuna and chicken), spaghetti sauce and pasta meals (like ravioli or Spaghettios), baby food, cereals, saltine crackers, cake, cornbread and pancake mixes, dry beans, rice, flour, sugar, syrup, peanut butter and jelly.
SOCCER FUNDRAISER
The deadline is Nov. 15 for the girls soccer spirit sale, featuring shirts, hoodies, pullovers, socks, hats, pants, PJs, Yeti-style cups, chairs, and more. Most items can be customized. Check out items in the link. Order online or find a girls soccer soccer player to place order.
SOCCER ALUMNI GAME
The PHS soccer program is hosting the first ever alumni game night Saturday, Dec. 30, at Jackie Hendricks Stadium.
The alumni women vs. PHS varsity will play at 2 p.m. The alumni men vs. PHS varsity will play at 3:30 p.m.
Registration is free and deadline to register is Friday, Dec. 22. Game shirts will be provided for all approved alumni.
FFA MEETING
The PHS chapter of FFA and the FFA Friends and Family booster club will meet at 7 tonight in the vocational ag building.
FFA T-SHIRT ANGEL TREE FUNDRAISER
The Princeton FFA is selling shirts to raise money for the Princeton Angel Tree program. Proceeds will help children have a more enjoyable Christmas season.
Orders are due by Friday, Nov. 17.
Click here
for an order form.
CAREER TEST
The ASVAB, the most widely used multiple aptitude test battery in the world, assesses a student's ability to learn new skills and is a predictor of success in training and education programs. The ASVAB Career Exploration Program offers more than just a test. It includes an interest inventory and other activities and resources designed to help students explore the world of work and gain confidence in making career decisions.
ASVAB is available for 10th- through 12th-graders. Students may register online at
aptestservice.com/princeton
. The registration window is open Monday, Oct. 30, to Thursday, Nov. 16.
The exam will be given at 8:30 a.m. Tuesday, Nov. 21, and results will be interpreted for students as soon as results are received (usually in December).
Test is free for all students.
CAFE FRESH
Cafe Fresh will not be serving lunch this week.
BASKETBALL SPONSORS
The Athletic Booster Club and basketball program are joining forces to offer options to sponsor the annual Princeton basketball tournament, which will be held at PHS Dec. 7-9. The tournament will host approximately 54 teams. The Booster Club sponsorship details:
*Who: Anyone who supports student athletes
*What: $20 donation gets your name in rournament program as "Booster Club Supporter" and can be individuals, families, students, businesses, PISD staff, etc.
*When: Turn in form and donation by Nov. 15. Checks can be made to the Athletic Booster Club.
*Why: 50 percent of the donations go directly to the PHS basketball program and 50 percent of the donations will go to the Athletic Booster Club (which, in turn, goes straight back to student athletes).
The goal is 50 supporters. Submit form and donation to
any high school basketball coach or Athletic Booster Club member.
In addition, several title sponsorship levels are available. Email Coach Eric Lockman at
elockman@princetonisd.net
if interested.
Click here
for details about becoming a title tournament sponsor.
2018 GRADUATION
The graduation ceremony for the Class of 2018 is 7 p.m. Friday, May 25, 2018, at Allen Event Center so mark your calendars now.
PHS PROM
The 2018 PHS prom is scheduled 7-10:30 p.m. Saturday, May 12, at McKinney's Collin College conference center, 2400 Community Ave., McKinney, TX 75071. Prom tickets will go on sale in March for $60 per person. The theme is "A Night in Paris; Glitter and Gold."
PHS AFTER-PROM
The after-prom party will be 11 p.m.-1 a.m. May 12 at Splitsville Luxury Bowling,
351 Town Place, Fairview, TX 75069.
Once again, Eldorado Chevrolet will donate a free vehicle that will be given away at the end of the after-prom party.
Clark Jr. High has its own Facebook page to communicate important information for parents:
CLARK FOOD DRIVE
Student Council and NJHS are sponsoring a food drive until Dec. 1. There will be a box in each teacher's classroom and prizes will be awarded to the top three classes overall. Students need to deliver their canned good donations to their 5th-period teacher.
CLARK "MOVEMBER"
Clark Student Council will raise money for cancer awareness and the American Cancer Society by hosting a beard/mustache growing contest for Clark staff members.
Staff members have started growing their beards, and during the month of November, there will be bins in the cafeteria featuring the faces of the beard-growing teachers. Photographs will be updated to represent current "beard status."
Students will donate to the teacher's bin that they want to see shave off their beard. The three beards that raise the most money will be shaved off in front of the kids during A, B and C lunch the week of Thanksgiving.
Money raised will be donated to the American Cancer Society.
CLARK FCA:
Clark FCA meets at 7 a.m. Fridays in Coach Landon Cope's room.
Clark FCA leadership meets during break Wednesdays in Coach Landon Cope's room.
CLARK SCIENCE TRIP
Clark Jr. High will travel to Orlando next year to explore U.S. space travel at Kennedy Space Center, Disney's Magic Kingdom, Epcot, Animal Kingdom and some of the nation's most diverse ecosystems at Fort DeSoto State Park.
CLARK SCHOOL PICTURES
Double T Photography will be on campus the following dates to shoot photos.
Tuesday, March 27 - Clark spring portraits
HUDDLESTON SCHOOL PICTURES
Double T Photography will be on campus the following dates to shoot photos.
Wednesday, March 28 - Huddleston spring portraits
Huddleston coding group.
HUDDLESTON CODING
| | |
| --- | --- |
| | |
| | Students work on coding. |
The Huddleston computer science coding group just finished coding their first project.
HUDDLESTON
FOOD DRIVE
Huddleston's food drive is underway until Nov. 30. The contest will be between the 1st-period classes. The class that brings the most items will receive a pizza party.
HUDDLESTON ASSEMBLY
The awards assembly for the second six weeks is 2 p.m. Thursday, Nov. 16.
HUDDLESTON TESTS
The six weeks tests for the 3rd six weeks are:
Dec. 19: Language arts
Dec. 20: Language arts and science
Dec. 21: Math and social studies
HUDDLESTON LIVING MUSEUM
The Huddleston living museum is Friday, Dec. 22.
HUDDLESTON BAND CONCERT
The Huddleston winter concert is 6:30 p.m. Dec. 12 in the PHS auditorium.
GODWIN FACEBOOK
GODWIN YEARBOOK
The Godwin Elementary yearbook is on sale until Jan. 26 for $33. Pay cash or check (payable to Godwin Elementary) or purchase online at
www.jostens.com
.
GODWIN PARENTS NIGHT OUT
Godwin PTO is hosting a Polar Express Parents Night Out at Godwin from 6-9 p.m. Friday, Dec. 1. More information will be coming out soon. If you have any questions, contact PTO president, Jonna Catenaccio, at
jonnacatenaccio@gmail.com.
GODWIN SPIRIT NIGHT
The Godwin spirit night at Texas Roadhouse is from 4-9 p.m. Tuesday, Nov. 28.
Show flyer or this email and a portion of proceeds from food purchases will go back to Godwin Elementary.
GODWIN AWARDS
The 2nd six weeks awards ceremony schedule for Friday, Nov. 17:
3rd: 10:15-11 a.m.
2nd: 11-11:45 a.m.
5th: 2-2:45 p.m.
4th: 3-3:45 p.m.
GODWIN PICTURES
Double T Photography will be on campus the following dates to shoot photos.
Monday, Jan. 22 - Godwin class pictures
Tuesday, March 20 - Godwin spring portraits
Thursday, May 3 - Godwin kindergarten cap and gown
GODWIN LIMO
The Godwin fundraiser limo lunch is Monday, Nov. 20.
GODWIN FIELD TRIPS
4th-grade trip: Tuesday, Nov. 21, visit to Perot Museum. If you plan to be a chaperone, make sure you have completed a background check for the current school year.
2nd-grade trip: Friday, Dec. 1, visit to Frontiers of Flight Museum. If you plan to be a chaperone, make sure you have completed a background check for the current school year.
3rd-grade trip: Friday, Dec 8, visit to Sea Life Aquarium. If you plan to be a chaperone, make sure you have completed a background check for the current school year.
GODWIN THANKSGIVING LUNCH SCHEDULE
Tickets were sold in advance for the Thursday, Nov. 16, Thanksgiving lunch. Follow this schedule:
Pre-K lunch
10:30-11 Pre-K Foster Pre-K Ackerman
10:40-11:10 Pre-K Diaz De Leon Pre-K McWilliams
Kinder lunch
10:50-11:20 Kinder Cory Kinder Baker
11-11:30 Kinder Doerr Kinder Marrufo Kinder McKnight
1st-grade lunch
11:20-11:50 1st Myers 1st Cordova
11:30-12 1st Moody 1st Ott
5th-grade lunch
11:40-12:10 5th Derden 5th High
11:50-12:20 5th Kaufman 5th Warren
2nd-grade lunch
12-12:30 2nd Sourber 2nd Meuir
12:10-12:40 2nd Morris 2nd Pagano
4th-grade lunch
12:20-12:50 4th Gardner 4th Harris
12:30- 1 4th Argo 4th Kramer 4th grade Koepp
3rd-gade lunch
12:40- 1:10 3rd Turner 3rd Christensen
12:50- 1:20 3rd Wallace 3rd Wilson
Godwin honored veterans on campus.
GODWIN VETERAN'S DAY
| | |
| --- | --- |
| | |
| | Godwin staff hosts fundraiser. |
Godwin Elementary celebrated Veteran's Day with the staff raising money with "Jeans for Troops" and hosting a special tribute program and inviting veterans from the community.
GODWIN REPORT CARDS
Godwin report cards will be coming home Nov. 16.
GODWIN TREE DECORATION
The kindergarten classes will decorate the City of Princeton Christmas tree at 9 a.m. Monday, Nov. 27. Parents are invited to meet the students at the tree in downtown Princeton.
GODWIN FOOD DRIVE
Godwin Student Council is organizing the community food drive for Godwin Elementary with a theme of "Elf on the shelf" as the Little Elf tracks donations. Monitor the Godwin Elf and donations on the school PTO's Facebook page at
https://www.facebook.com/groups/godwinpto/about/
.
Donate food through homeroom classes until Dec. 1.
Bonus donations include:
Round 2 (until Nov. 17):
Monday: Canned pasta (Spaghettios, ravioli)
Tuesday: Packaged fruits, applesauce
Wednesday: Cornbread mixes
Thursday: Spaghetti noodles
Friday: Spaghetti sauce
Round 3 (Nov. 20-21):
Monday: Canned vegetables
Tuesday: Soup
Round 4 (Nov. 27-Dec. 1):
Monday: Cake mixes
Tuesday: Rice
Wednesday: Breakfast cereals
Thursday: Canned vegetables
Friday: Chili
The class with the most donations wins an extra recess and a special surprise from Principal Marlena Brown.
GODWIN NEEDS WATCH D.O.G.S.
Godwin is searching for dads, uncles, grandpas, father-figures who want to sign up to be a part of the school's Watch D.O.G. program, which promotes father involvement with a goal of providing positive male role models while enhancing security and reducing bullying.
Watch D.O.G.S. will volunteer for at least one day at the school. Follow the steps below to volunteer.
1. Click this link to go to the invitation page on SignUp.com:
Watch D.O.G.S
2. Enter your email address. You will NOT need to register an account on SignUp.com.
3. Sign up by choosing your dates. SignUp.com will send you an automated confirmation and reminders.
Follow the Harper PTO Facebook page by clicking this link:
HarperPTO
HARPER FOOD DRIVE
Harper Elementary's 3rd annual food drive is underway until Nov. 30 to benefit the students and families of Princeton ISD.
Click here
for an informational flyer.
Homeroom teachers collect food items and points will be tallied each day. The "Golden Gloves" hang outside the class atop the leaderboard each day. The classroom with the most points at the end of the day Nov. 30 will win a pizza party and spirit sticks.
Knockout round items:
This week: Canned soups/stews/chili and saltine crackers
Round 4: Nov. 20-30: Canned meats (Spam, tuna, chicken, etc.) and Hamburger Helper
Homeroom classes will be competing against each other by collecting non-perishable food items. Each food item is worth 1 point. Knockout round food items are worth 2 points during the corresponding week. Any nonperishable food item will be collected at any time.
HARPER PRACTICE WRITING
The practice writing STAAR is Nov. 15-16.
HARPER SIX-WEEKS AWARDS
The 2nd six weeks awards ceremony is Nov. 17. (If you receive a flyer from your child's teacher, then your child is receiving an award.)
HARPER FUNDRAISER PARTY
The fundraiser party bus lunch is Nov. 21.
There is a Harper buddy bench on each playground.
HARPER BENCH
To wrap up October, which is National Anti-Bullying Awareness Month, Harper now as two buddy benches. Each playground has a buddy bench for students to utilize on days they feel lonely, down or just need a friend. It's Harper's mission as a school to provide an environment conducive to kindness and learning.
HARPER BOOK FAIR
The Harper book fair is this week.
HARPER SCHOOL PICTURES
Double T Photography will be on campus the following dates to shoot photos.
Wednesday, Jan. 31 - Harper class pictures
Thursday, March 22 - Harper spring portraits
Friday, May 4 - Harper kindergarten cap and gown
HARPER POPCORN
The PTO will host Popcorn Wednesdays. Purchase a bag of popcorn for $1 during recess time to help support the Harper PTO by purchasing a bag of popcorn for $1 at recess time.
Theater group presents space program.
LACY SPACE SHOW
The National Theatre for Children came to Lacy Elementary for a free performance of, "Space Station Conservation." The play was about energy and how to conserve natural resources.
The presenters even got assistance from the student audience, including Dax Andrews, who held a sign during part of the educational science demonstration.
Lacy students can take donations to their homeroom teacher until Nov. 30. Prizes will be awarded to students in the Top 3 classes that collect the most food. First place - anti-bully T-shirts, prize and extra recess; second place - prize and extra recess; and third place - extra recess.
LACY SPIRIT NIGHT
Lacy PTO is hosting a spirit night at Texas Roadhouse tonight. Flyers were sent home with students. Present the flyer or show this or the Lacy PTO Facebook page on your phone and Lacy will receive a percentage of total food purchases.
LACY PICTURES
Double T Photography will be on campus the following dates to shoot photos.
Wednesday, Jan. 17 - Lacy class pictures
Wednesday, March 21 - Lacy spring portraits
Wednesday, May 2 - Lacy kindergarten cap and gown
You can follow Smith Elementary PTO on Facebook for up-to-date information by liking the page:
The Jr. ROTC presents the colors at the Smith ceremony.
SMITH TRIBUTE
| | |
| --- | --- |
| | |
| | Smith honored veterans. |
VFW Post 9167 Sr. Vice Commander and Air Force veteran Danny Cave and the PHS unit of the Navy Jr. ROTC visited Smith Elementary Friday for a ceremony to honor veterans.
SMITH AWARDS
Because of the Thanksgiving lunch and "Fun Run," Smith will change the awards schedule. Dates for the second six weeks awards are:
Monday, Nov. 20:
8:45 a.m. - Kinder and 1st grade in the cafeteria
9 a.m. - Pre-K in classrooms
9:30 a.m. - 2nd grade in cafeteria
Tuesday, Nov. 21:
8:45 a.m. - 4th and 5th grades in cafeteria
9:30 a.m. - 3rd grade in cafeteria
SMITH FOOD DRIVE
Smith Elementary's annual canned food drive is underway until Nov. 21 to benefit the students and families of Princeton ISD. To participate, send non-perishable food items with your child. Students will need to take their food items to their homeroom teacher so they may be counted.
Bonus week items (that are worth double points):
This week (Nov. 13-17): dried pinto beans and canned meat
Week three (Nov. 20-21): peanut butter and jelly
Parties will be awarded for the top three classrooms that collect the most food.
SMITH PICTURES
Double T Photography will be on campus the following dates to shoot photos.
Tuesday, Feb. 6 - Smith class pictures
Tuesday, April 10 - Smith spring portraits
Tuesday, May 1 - Smith kindergarten cap and gown
FREE GED CLASSES
Free adult GED classes offered through Denton ISD. Local registration from 5:30-7:30 p.m. Nov. 14 and 28 at Huddleston Intermediate School.
CHRISTMAS BIBLE SCHOOL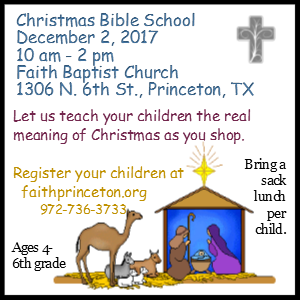 Faith Baptist Church will host a Christmas Bible School from 10 a.m.-2 p.m. Saturday, Dec. 2, at 1306 N. 6th St. for ages 4 to 6th grade. Sack lunch needed. Register at
faithprinceton.org
or by calling 972-736-3733.
FLAG PROGRAM
The Princeton Chamber of Commerce is sponsoring a flag program to allow businesses and residents to display the American flag on appropriate holidays. To sign up, pick up an enrollment form at the Chamber of Commerce office, City Hall or
click here
.
BUSINESS BREAKFAST
Whataburger will host "Business & Breakfast" from 7:30-9 a.m. Tuesday, Nov. 21. The come-and-go event helps local business people network.
LIBRARY STORYTIME
The library hosts storytime at 10:30 a.m. every Wednesday. Topics for November:
Nov. 15: Happy Thanksgiving!
Nov. 22: NO Storytime
Nov. 29: Children Who Loved Books
BOOK SALE
The Lois Nelson Public Library has an on-going book sale to fund library programs and supplies. Books are sold for 25 cents. Sales are cash only. New books added each week.
If you have any questions, comments or suggestions about the district's communications, I can be reached through this email address, jcollins@princetonisd.net or by calling 469.952.5400, ext. 3504.
# # #